We would be delighted to draw up an individual offer for your company, composed of private or group courses, taking place either at our location or on-site in your company. Our online courses have also been successfully tried and tested in the business sector, especially with companies with multiple branches in and outside the country.
We would like to assist you in choosing the most effective course combination for your company!
Contact us at office@ahojheisstservus.at or under +43 (1) 920 45 30. Whether online, by telephone or in person – we look forward to hearing from you!
---
---
Private Instruction
This form of instruction has proven by far and away to be the most popular among our business customers. The advantages of choosing private instruction for your company are:
Intensive lesson scheduling
Rapid progress
Individually personalized lessons for each student, with sector-specific content
Flexible scheduling to accommodate personal availability
Possibility of combining with online courses to provide continuity (e.g. during business trips)
Free cancellation of classes until 4:00 pm of preceding work day
Group Courses
We can put together specifically-tailored group courses for your employees. These courses can either take place on-site in your company or in our classrooms.
As with our private instruction, group courses can also be individually organized regarding content, frequency, etc.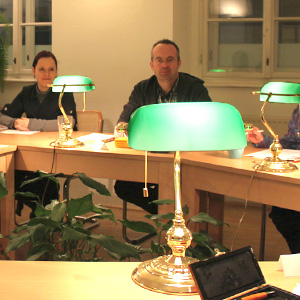 Online Courses
Is a language course in Vienna not flexible enough for you? Could you picture yourself learning Russian online, without giving up the benefit of an interactive trainer? Whatever your needs are – a Czech course or a Polish course, another Eastern European language we offer, whether German,English or Swedish – our language institute offers you the perfect solution: Learn more about our online courses.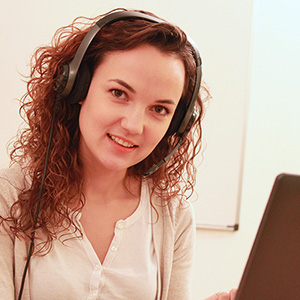 ---
Socialize
My Czech language course at Ahoj is great!
Our trainer does a good job. Eventhough my vocabulary is lagging behind, the class is exactly what I need. We get offered the best value-for-money!
These one and a half hours are very demanding (and even without a break!).
Elisabeth S.
Private client
We have been working together with Jitka Woodhams and her team since the founding of the language school. In the past nearly 10 years, more than 100 employees as well as workers councils and staff representatives have taken part in languages courses organized in cooperation with the Austrian Trade Union. Our participants constantly gave positive feedback. Thanks to the high satisfaction level, a great number of them were motivated enough to continue their personal language training with "Ahoj Europa Neu". This good positive feedback which is very important for us, can be traced back, in our opinion to the high quality of language training, but also with certainty to the personal and friendly atmosphere permeating the language center. We would like to thus express our thanks for the many years of positive and successful cooperation.
Mag. Marcus Strohmeier
ÖGB-International Secretary / Leader of the International Department
I took three years of Czech instruction at "Ahoj Europa Neu". A Slavic language is a real challenge to take on and can't be learned casually on the side. Thanks to the competent, friendly trainers of this specialized language school and the first-class teaching materials, I was able to overcome every discouragement that came my way. I now read Prague's daily newspapers in the original language, chat with the people there, and even translate the Czech language.
My conclusion: It isn't impossible to learn difficult Eastern languages, but without "Ahoj Europa Neu"
I wouldn't even want to consider doing it.
Dirk Schümer
Europakorrespondent im Feuilleton der Frankfurter Allgemeinen Zeitung
I experienced the need to understand the Czech language after making several trips to Czech cities, castles, restaurants and breweries. I thought to myself right away that it wouldn't be a simple undertaking, but thanks to the trainers at Ahoj I was able to make considerable progress. They were able to ease me into the Czech grammar with seven cases and aspect verbs as well as coaching me to develop the needed endurance for using them in the proper place.
I would like to remark on two significant advantages that are rarely mentioned at Ahoj because they are taken for granted here: language instruction only takes place in small groups and is exclusively given by native speakers.
PS: Whoever doesn't know what aspect verbs are can sign up for a course…
Florian Kräftner
I've had the pleasure of having "Ahoj Europa Neu" in the near vicinity since 2004. Firstly, I live in the same building and daily see friendly and satisfied faces and secondly, I gave myself the present of a language course and have been taking Czech lessons since 2004 at Ahoj.
I have done several other language courses in the past – making the comparison with others I can say with a good conscience: Trainers, methods, ambience and atmosphere as well as the price-value ratio makes learning an enjoyable and pleasant experience.
Customers are advised efficiently and comprehensively and the school's flexibility is second to none.
Andrea Nap
We have entrusted "Ahoj Europa Neu" with the language training of our workers' councils since 2011. Due to our course participants being scattered across Europe, we opted for online courses in German and English.
It is a great pleasure for me to be able to communicate in the meantime with many of my European colleagues in German which was, previous to starting the project with "Ahoj Europa Neu", for the most part only possible with the help of an interpreter. My colleagues learning English also report making quick progress. The professional methods of the trainer teams at "Ahoj Europa Neu" have also proven in the meantime to keep everyone focused and enthused after 2 years. The weekly language course is a fixed event on the calendar and a pleasant change in the daily routine.
Karl Sauer
Chairman of the European Workers Council, Wienerberger AG
For 1,5 years I have been taking Russian classes at Ahoj. During that time my teacher encouraged me to speak – this was especially very helpful in using Russian every day at work:
the great focus on logistic topics was directly related to my work
My trainer individually prepared flashcards for verbs and comics for adjectives which made memorizing new words much easier for me
We worked with model sentences when learning difficult vocabulary so I could recall it faster
Having finished this course I am now able to manage various issues at work on my own – mission completed!
Stefanie R.
Transport Manager
I had the perfect trainer as she was always well prepared, making a huge effort to take into account my personal preferences and getting me to speak.
I would like to take this opportunity to thank the whole Ahoj-team!
I enjoyed the warm welcomes and the beautiful flowers at the patio when entering the school, and particularly the professional language training in such a family atmosphere.
During all these months there has never been one single boring lesson and I truly feel in good hands at Ahoj.
Keep up the good work!
Petra Feisthauer
Donauchemie AG